Carolyn Angel was a fashion editor at W for a decade. Today she bridges the gap amongst the fashion and art community at her gallery Fort Gansevoort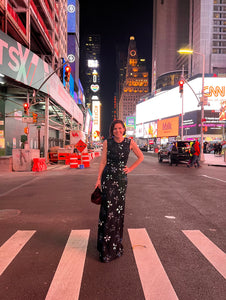 HOW DID YOU FIRST BECOME ACQUAINTED WITH JONATHAN COHEN?
My dear friend Karla Martinez. We grew up in fashion together and I have always trusted her opinion and eye.
WHAT ABOUT JONATHAN COHEN'S GARMENTS HAVE LURED YOU TO WEAR FOR BOTH DAY AND NIGHT EVENTS?
The garments are feminine and flattering and easy to wear!
HAVE YOU ALWAYS BEEN A LOVER OF ART? WHAT PIQUED YOUR INTEREST IN OPENING YOUR OWN GALLERY?
My parents nurtured my passion for the arts from an early age. They took me to plays, museums, galleries - exposing me to a diversity of creative styles. Seeing seminal works by masters like Matisse, Picasso, and Dali as a child was eye-opening. My mother studied art history in college before becoming a therapist. My father showed me the spirit behind artistic creation. Together, their teachings conveyed that art isn't just about aesthetics - it's a way to understand culture and history. This sparked a lifelong curiosity in me. My husband and I bonded over our shared love of the arts early on. Even when we first started dating, we enjoyed visiting artists and galleries together for our date nights. Over the years, we remained dedicated to supporting emerging and underrepresented artists whose work we admired. We felt compelled to not just champion them, but provide a platform for their success. So we opened our own gallery to uplift these creatives, offer mentorship, and catalyze their careers with greater support and exposure. Watching these artists thrive has been incredibly rewarding.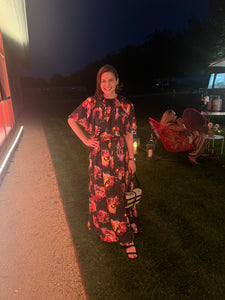 Carolyn wearing our Pink Dahlias Fluted Sleeve dress
YOUR LOVE FOR TRAVEL IS EVIDENT THROUGH YOUR INSTAGRAM PAGE. WHAT HAS BEEN YOUR MOST SIGNIFICANT TRAVEL EXPERIENCE
This is hard! My family grew up traveling and always instilled a love of culture and experience by visiting the world. But I think taking our kids to Italy when our daughter was a baby and our son was two years old was a significant travel experience. We flew to Italy and went to Lake Iseo to see "The Floating Piers" by the artist Christo. My mother came with us, she was actually the one who told us we had to go and I will always treasure this moment together. Afterwards we went to Lake Como to celebrate my birthday and our hotel put on a show...something out of Moulin Rouge! I can still picture the paper moon and our children's faces witnessing it.
NEW YORK IS A VERY SPECIAL CITY THAT ALLOWS FOR AMAZING OPPORTUNITIES WITHIN IT. HOW HAS YOUR CAREER GROWTH BEEN INFLUENCED BY THE COSMOPOLITAN ATMOSPHERE?
New York is a very special city that allows for amazing opportunities. Its cosmopolitan atmosphere has profoundly shaped me throughout my life as a native New Yorker. Being in a city that never sleeps, constantly surrounded by culture and a melting pot of creatives, can make you see things differently. Inspiration is everywhere - on the subway, at the theater, the ballet, out to dinner. You are never not inspired by the energy and people around you. New York exposes you to so many diverse perspectives and forms of art. This constant stimulus saturates you with creativity and imagination. The city's spirit of ambition paired with its rich cultural scene compels you to dream big. You can't help but be influenced by this electric environment. As Sinatra said, in New York you can make it anywhere - "It's up to you, New York, New York!"
HOW DOES YOUR LOVE OF ART INFLUENCE YOUR STYLE?
My style can be influenced by many things. When I was a fashion editor at W I would try to dress as the stylist or designer that I would see that day or a fashion story I was working on. Now for an opening at Fort Gansevoort I will think about the artist and what look they would love!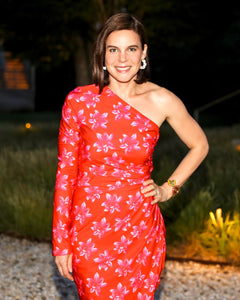 WHAT HAS BEEN THE MOST MEMORABLE MOMENT IN YOUR FASHION CAREER? WHY?
My time as a fashion editor at W Magazine was filled with incredible highlights that I'll forever cherish. Getting to attend Paris Fashion Week and seeing the legendary houses like Dior, Chanel, and Balenciaga was a dream come true. After writing my honors thesis on fashion in college, seeing the actual ateliers where these designers worked was profoundly inspiring and meeting the designers who worked on the collections was equally inspiring. Another unforgettable moment was experiencing Alexander McQueen's final show the March after he had passed away in February. The breathtaking collection exemplified fashion's immense power to simultaneously evoke beauty and raw emotion. I also treasure the opportunities I had to travel the world for fashion shoots working with amazing teams. W in the early aughts created images, energies, and talents that time will stay with me forever. Every day was an education and an inspiration.
HOW DID YOU START ART SUNDAE?
My dear friend Casey Fremont and I had young children at the same time. We often took them to see and make art together. This sparked an idea - we realized that these enriching art experiences might not be accessible to all children, but that they could and should be. So we decided to start a free public children's art program, where kids could create art with working artists and then display it for others to appreciate. We began the program working with the Children's Center - The Hudson Guild, bringing kids who lived nearby to the gallery, Fort Gansevoort, to collaborate on art. Seeing the children's creativity blossom during those workshops was so rewarding. Now the program has grown with the help of the Art Production Fund, bringing inspiration to kids at Rockefeller Center and beyond. Nurturing children's artistic exploration through this accessible program is a true joy and I always look forward to these workshops!